Snippet: Life is too short so make the important things happen, every single day!
October 17, 2023 – Possibly you already know what a huge Mel Robbins fan I am. She was featured prominently in my blog on May of 2020!
I fell in love with her when her book The 5 Second Rule came out in 2017. I even went to Vegas for barely 24 hrs by myself just to attend an event she held and get a picture and autograph!!
Here is her "autograph" on my 5 Second Journal!
Out of all the amazing content Mel puts out on Youtube, her podcast, and all the places, I have been able to act on many of her tips. The most recent one that I'm finding incredibly impactful is emulating her Million Dollar Morning Routine. You should absolutely look at it in its entirety, but specifically, I'm getting a real bang for my buck doing the following every morning:
1) I write down 5 things that I WANT. (this can be so hard because we, as women, are not programmed to lean into what WE want, because we are so busy taking care of others…but once you allow yourself to express what you WANT…OMG it's freaking amazing!)
2) Then I write down WHY I want each of those things. (oh yeah, this is where the magic happens as you dig into your heart and soul for all that "selfish" stuff you have in there! LOL it's not at all selfish, so indulge yourself!)
I do this every single day.
I'll cut right to the chase here: those things are HAPPENING.
It's wild.
Yes, the stuff I'm writing down that I want, the stuff that seems so impossible and/or pie-in-the-sky, the stuff that feels selfish or too dreamy to write down…it's actually becoming reality.
When I write down these things every day, and then I describe WHY I want each thing, there must be some sparkly magic there, and I don't know what it is, but it's making things HAPPEN.
I wouldn't say all this without giving you some examples, of course! One light, and one a little heavier.
The first one I'll share is this: I want our bedroom to stay much tidier. It's often a real mess, and it doesn't help me wind down at the end of the day when it's messy. Mind you, my hubby and I have been together for MULTIPLE DECADES and it feels like a big ask to simply say: "Hey, so our room sucks, so let's start keeping our room tidy, what you think, babe?" Seems a bit out of left field, right?
Instead, I started to describe what I want in my journal.
PLUS, I never shared this desire with my husband out loud, but legit he's been picking up more. THIS IS THE TRUTH. I wouldn't lie to you! I have been keeping my side tidy and containing my "staged" clothing in the closet, putting away my shoes, and clearing off my nightstand. All without telling him to do the same. (PS he has way more clothing and shoes etc than I do!)
The second thing I've been writing down is that I want to make time to connect face to face with people. We are so busy that easily weeks can pass by and no special visits happen with people I think are awesome. And we aren't guaranteed infinite time in life.
On my list of people is our family's chiropractor, Dr. Dan Bockmann. Why him? Well, for many positive reasons like he lives very near me, he's awesome, he's talented at his work, but, reality check: life dealt him a shit sandwich in May of 2021 when he found out he had stage 4 colorectal cancer. When he told me of his diagnosis, I simply stopped seeing him for chiropractic care, I'm not sure why, but I did.
Instead, I've kept up with his story via social media, where he has been a warrior on his Instagram and especially his Youtube channel, sharing his entire journey: symptom by symptom, treatment by treatment, surgery by surgery. Since we live in the same neighborhood, I'll see him out walking. Often we wave if he sees me in my car. And I'll always think, "Gosh, I REALLY need to make an effort to spend some time with him."
Then about a month ago, his most recent video shared that his oncologist didn't have great news for him as far as his cancer situation. What punch in the stomach. (It's really inspiring and I hope you watch it, even though you don't know him. The video is called "2 to 6 months to live and the cool thing about cancer." I told you he was awesome!
So I made a walking date with him, on a Thursday, an hour and half before I was leaving for the weekend. We met up and went on a fantastic walk together!
There are so many wins here that it's hard to describe them all. Quality time with another human being. Getting ready for my trip "early" so I could keep our date.
Doing something that MATTERS, even when time was tight.
Writing these things down MATTERS. It feels indulgent, too.
And I love it!
I invite you to feel the magic of wanting things out loud. Life is too short.
---
Hey, did you struggle pulling those tax papers together for the October deadline?!
How great would it feel next year to file ON TIME in APRIL??
With an organized Financial Binder, you will!!
EARLY REGISTRATION BONUS: sign up before Oct 20th and get a 40-minute coaching and prep session with me to help you get ready to SLAY your Financial Binder (Organize365™ or DIY)!! Only $69 for a 3.5 hr class plus a bonus coaching session worth $75…jump on it!
If you don't know what a "Financial Binder" is but want to learn more, reply HERE!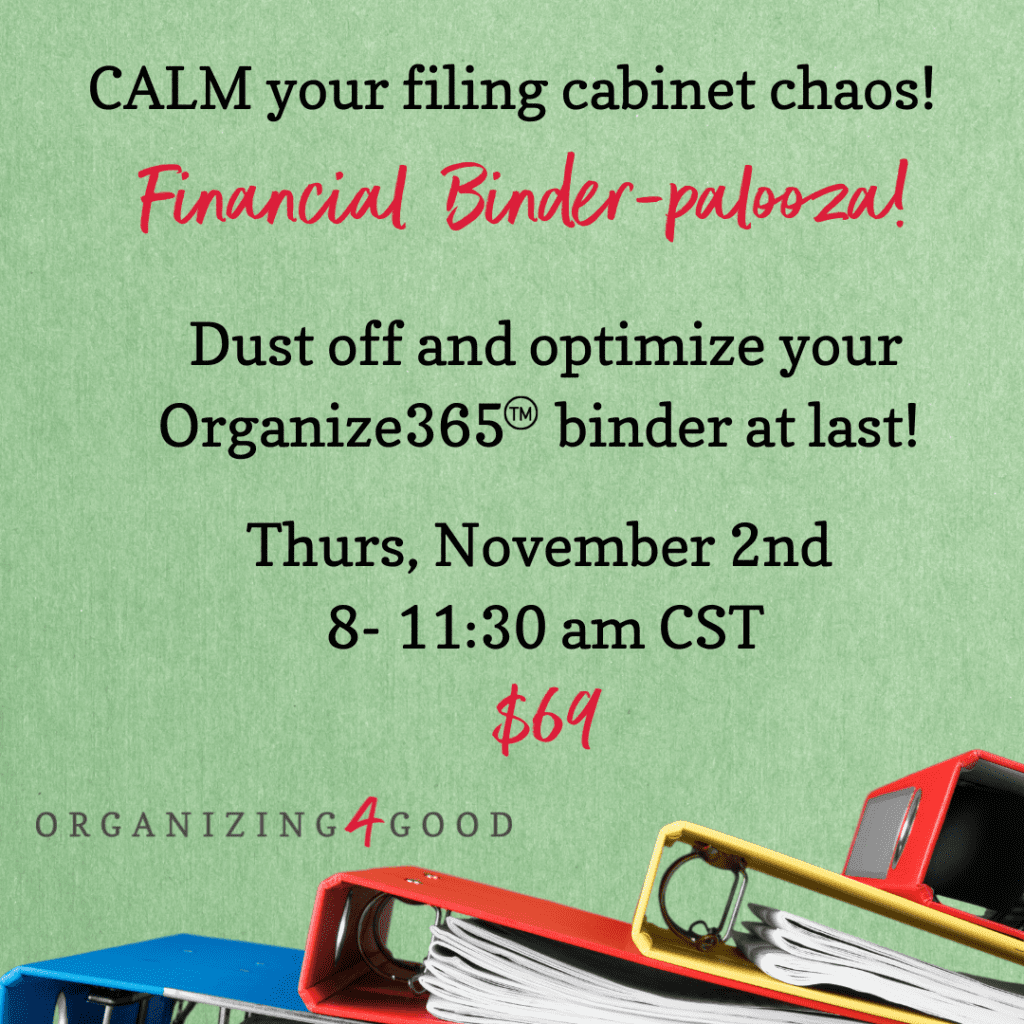 Come visit us in our fun, free FB community: the CALM Collaborative!