It must be January, because I find myself asking friends, family members, clients and total strangers this question:
"Have you worked out a Word of the Year yet? Or a phrase?"
I know! I just can't help myself!
So, here I am, right now, asking YOU!!!
Like Chrissy, are you feeling stuck? It's totally understandable. Here are some suggested guidelines…
Did you have one last year? Re-visit that one. Is it still "on brand"? Could you use it again, but with a few tweaks? Let it serve you if it still has messages for you.
"But, Ryan, I didn't have one from last year!" Breathe, it's NO PROBLEM. So first you take some time to look back over the past year, with an eye for identifying a theme or themes. Just one quick warning, it can be a bit painful if there were tough events to deal with. Ok let's be real: there definitely were painful events! The good news is, that's where critical messages can lie. Information and lessons abound! Grab them all as much as you can!
So, look back, absorb, think…
Then just sit with it. For a few days or even weeks. I like to think that one's Word of the Year will unfold…it will reveal itself to you at the right time.
You wait for it, being patient.


How woo woo is that?? Sorry not sorry!! I believe strongly in manifesting! The universe is full of gifts and information to be had, so be open to them.
In fact, I had lunch with a dear friend yesterday that had a beastly 2022, a year that no one deserves, and I'm so excited to report that she came up with a word that will help her move farther and farther away from that darkness.
Your Word of the Year is a tool in your toolbelt, so grab it and use it!!

You know me by now, and I want to know!! Tell me your word or phrase!! Let me know here! Still pondering, tell me that, too, and I can be your sounding board.
As I shared a few emails back, my Word of the Year is a phrase: "edit and evaluate." It's working super well for me, with the added bonus of alliteration:)
(If you didn't know I was obsessed with alliteration, then you haven't read my book The CALM Method: A Guide to Ditch Last-Minute Living.) I'd be honored if you clicked the link and gave it a look!
Come knock out your "digital energy leaks" with us!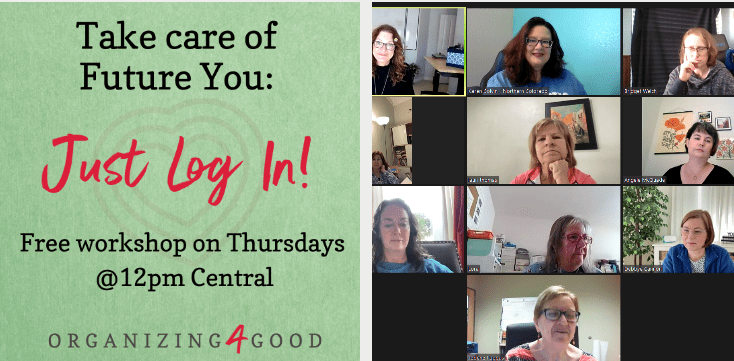 Come join my free Thursday workshop to help you "Just Log In" to address those digital energy links. Let's locate the links, save the passwords, and get up for success!! No more having to binge when a deadline comes (AGAIN!!) because you're already tackling it.
Still needing time to carve down your email? This is the time, too!! Plus the group-smarts are there to help answer questions.
As always, the replay will be available in the CALM Collaborative FB Group. Click here to register…free as always. We are having a blast so come on!!

Cheers & love! 0xo, ryan:)